The Right Way to Cleans and debride wounds
Jetox™ is the leading solution for wound cleansing and debridement, enabling medical practitioners worldwide to treat patients with comfort, efficiency and success. Based on proprietary TavTech jet technology, the unique Jetox™ device delivers a targeted saline and oxygen-rich micro-droplets solution to the wound area in a virtually pain-free treatment that also accelerates the healing process.
JETOX™ TECHNOLOGY

CLEANSING AND DEBRIDEMENT WITHOUT THE PAIN
Jetox™ by TavTech is an advanced wound cleansing, irrigation and debridement system based on
world-first jet stream technology that enables thorough and painless deep cleansing treatment.
Used in medical settings worldwide, the Jetox™ Jet lavage technology is proven to effectively
cleanse complex wounds and remove non-viable tissue, optimizing the healing process and
supporting medical practitioners in achieving the best possible results, with maximum comfort
for patients.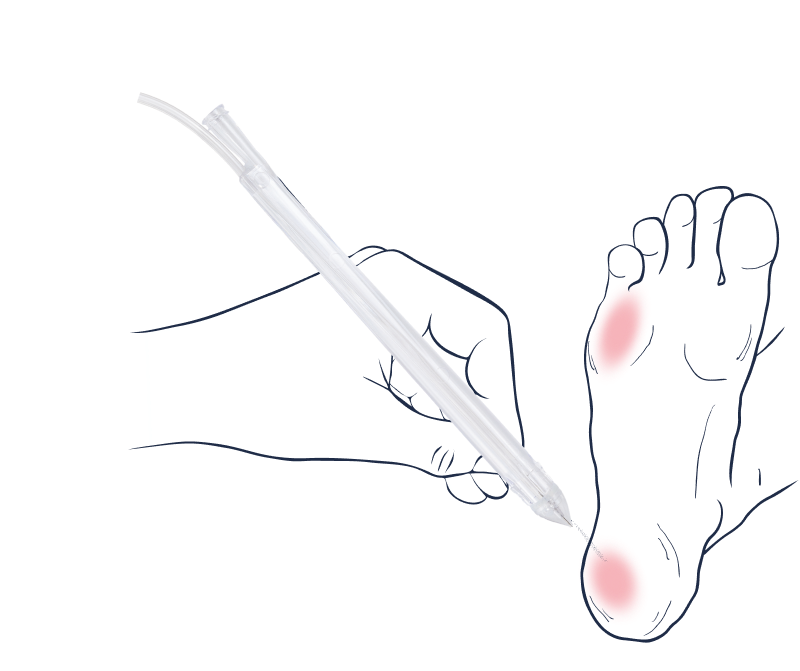 Jetox™ is designed for effective cleansing of diabetic ulcers, pressure ulcers, venous stasis ulcers, burns and hard-to-heal tissue. The compactness, and minimal amount of solution during treatment makes it ideal for bedside application in the hospital, clinic of home settings.
Ideal for use at:





Inpatient &
outpatient clinics

Physical therapy
departments

JETOX™ Solution

EFFICIENCY AND EFFECTIVENESS

THOROUGH, EFFICIENT WOUND CLEANSING AND DEBRIDEMENT:
Promotes faster healing and enables the provision of more effective medical care.

MAXIMUM COMFORT FOR PATIENTS:
Unique proprietary jet stream technology ensures maximum wound cleansing
with minimal discomfort to the patient.

EASY, CLEAN, COMPACT:
Achieve outstanding results with a portable, compact device enabling easy-to-control
impact. Fast simple setup and minimal cleanup required.
JETOX™ Systems

ENHANCE THE LEVEL OF CARE

JETOX™ND23
Wound cleansing system administers a gentle stream for wound cleansing
and removal of non-viable tissue. The generated air creates a desensitizing
effect, making it the treatment of choice for patients who are very sensitive to
debridement. The system includes a flexible silicone cap that acts as a splash
protector to reduce contamination.
JETOX™ND
The mono-use disposable hydro debridement system allows a focused stream for
cleansing of complex wounds and removal of biofilm while helping to decrease
the bacterial load. The system includes a flexible silicone cap that acts as a splash
protector to reduce contamination.

JETOX™HDC
The Jet Lavage system for cleansing and debridement of hard to debride wounds,
while simultaneously evacuating debris. The system includes built-in suction
elements that easily connect to standard vacuum outlets.
CONTACT US
Want to find out more about TavTach products?