The Right Way to Clean and debride wounds
JetOx™ by TavTech is a pneumatic powered wound cleansing, irrigation and debridement system based on world-first jet stream technology that enables thorough and painless deep cleansing treatment. Used in any setting alike: home, clinic or hospital, the JetOx Jet lavage technology is proven to effectively cleanse complex wounds and remove non-viable tissue, optimizing the healing process and supporting medical practitioners in achieving the best possible results, with maximum comfort for patients.
JETOX™ TECHNOLOGY

OXYGEN ENRICHED WHIRLPOOL TECHNOLOGY
JetOx utilizes TavTech's proprietary jet stream technology. JetOx accelerates microdroplets of saline (or antiseptic solutions) imbued with compressed oxygen to generate a fine misty stream traveling at sub-sonic speed of 200m/sec. This powerful yet surprisingly gentle jet stream precisely removes debris, bacteria, necrotic tissue, biofilm and exudate from the wound surface, with minimal pain for the patient, while enriching the wound bed with oxygen. Additionally, the jet stream naturally conforms to the irregular contours of the wound allowing for cleaning and debridement of many types of wounds.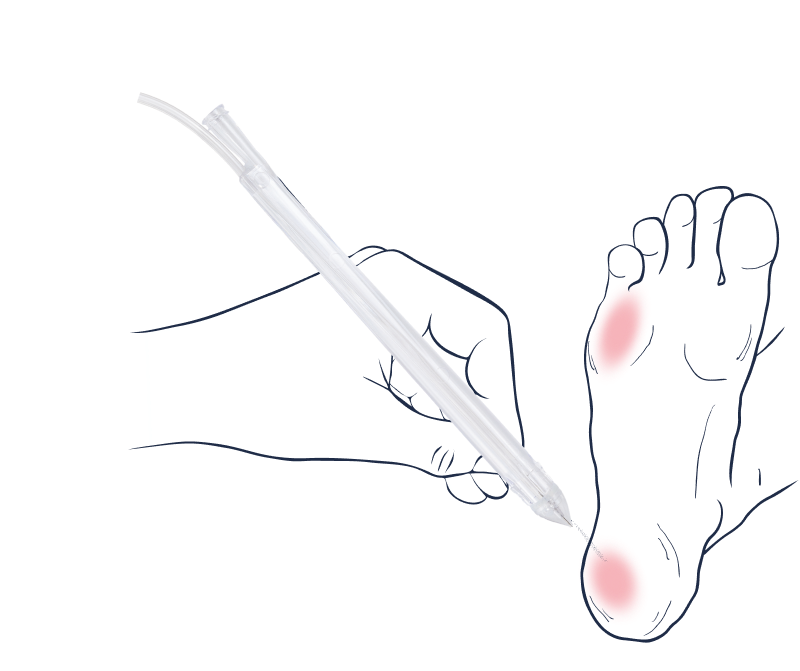 JetOx is designed for effective cleaning and debridement of chronic critically colonized wounds. It is proven effective for use in diabetic ulcers, pressure ulcers, venous stasis ulcers and burns. The gentle and precise system make it clinically effective for painless wound cleansing without disturbing healthy granulation tissue. The compactness, and minimal amount of solution during treatment makes it ideal for bedside application in the hospital, clinic or home settings. Due to the procedure's simplicity, treatment can be delegated to trained healthcare professionals.​
Ideal for use at:


Inpatient &
outpatient clinics




Physical therapy
departments

JETOX™ Solution

EFFICIENCY AND EFFECTIVENESS
THOROUGH, EFFICIENT WOUND CLEANSING AND DEBRIDEMENT:
Promotes faster healing and enables the provision of more effective medical care.

SUITABLE FOR ANY MEDICAL OR HEALTH CARE SETTING:
Ideal for bedside use in any medical clinic or care center. Compatible with standard gas outlets. Operated by doctors and nurses worldwide.

EASY, CLEAN, COMPACT:
Achieve outstanding results with a portable, compact device enabling easy-to-control
impact. Fast simple setup and minimal cleanup required.

MAXIMUM COMFORT FOR PATIENTS:
Unique proprietary jet stream technology ensures maximum wound cleansing
with minimal discomfort to the patient.
JETOX™ Systems

ENHANCE THE LEVEL OF CARE
JETOX™ND
Wound cleansing system administers a gentle stream for wound cleansing
and removal of non-viable tissue. The generated air creates a desensitizing
effect, making it the treatment of choice for patients who are very sensitive to
debridement. The system includes a flexible silicone cap that acts as a splash
protector to reduce contamination.
CONTACT US
Want to find out more about TavTech products?